There is no clever way to report that median holiday sales came in flat this year. We've tried and the effort falls as flat as the numbers. Truth is – there is not much of story on a macro level – at least that we can find. Without a tumultuous election – November started off stronger this year for most but there was a post-Thanksgiving softening almost across the board. We saw another late season resurgence though not quite as robustly as 2016. Is procrastination simply the new trend? Hello, Amazon.
Finding the common threads of success is becoming harder and harder. Finding the right mix of marketing programs and executing them successfully is too. In our Specialty Food Index, we saw a massive swing between the largest decline (down 19%) and the highest performer (up 27%). This makes for wonky averages that don't really tell a story. As usual, it takes a deeper dive into the companies and their individual results to extract any meaningful information. There are some good takeaways.
In Summary:
• 50% of the companies in our index showed a decline.
• 31% grew between 1 and 10%.
• 19% grew more than 10%.
Click here to see industry stats and comps: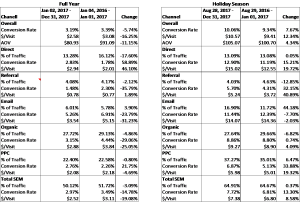 Observations
Marketing Budget. Seems an obvious correlation but the interesting thing is this… 100% of the companies that grew double digits increased their marketing spend. 100% of the decliners reduced their spend. There is almost always an exception to that rule. A breakout new product sends sales soaring despite a smaller budget or a company has large scale turnover and fails to get traction with more marketing dollars. But not last year, there were no exceptions. In 2017 – the direct relationship between budgets and results was an absolute.
Next question of course… how did the winners spend their money?
In every single double-digit story, a marked investment was made in the offering or the on-line store. Again – seems obvious. But what hasn't been obvious, at least in an-in-your-face sort of way, is that resting on yesterday's laurels is a recipe for stagnation.
Let's look at our top 5 winners. Company 1 went live with a new site. Company 2 made a significant investment in their creative assets and end user experience. Company 3 developed a totally new line of self-serve gifts and companies 4 and 5 increased their marketing budget by 50% or greater.
What was once a competitive advantage has now become the basic must-dos of survival. For long term prosperity in this business, we see those basics broken down in to 3 things:
1) Offering. There is nothing you can't find on Amazon. Nothing. The one exception to that is brand experience and this is the only card we have to play in Amazonia. If we are epicureans at heart, we just may stand a chance because even the exact same product will experience a dilution of integrity when sold or bought off-site. It's like the luxury foods they sell in the impulse section near checkout at Big Box discounters. Usually with near or approaching sell-by dates. Somehow, a box of Godiva out of bin next to the packs of glitter nail polish just isn't the same as the counter experience you get inside one of their gilded stores. People still want special – and moreover – they want to gift special. But special needs to be special. This is done with constant innovation and creativity within the brand, a unique proposition, a positive customer service experience and an impressive in-box experience. Are you special enough? If you can't answer that – ask us.
2) Website. This is the beginning and the end of your entire e-commerce effort. A successful search campaign is meaningless without a strong store. A clean, well merchandised, easy to navigate, easy to purchase experience is a must. Enticing imagery and compelling copy is too. Our industry is becoming more and more competitive and choice is abundant. Your website is where you keep the interest of your customers – and more importantly – where you earn the interest of a prospect, without which, you are dead. Whether or not you are doing this successfully can be answered with one question. Would someone with no previous exposure to your brand be motivated to buy from your store? If you can't answer that without bias, consider user testing.
3) Marketing plan. Gone are the days when you could formulate a plan based on an industry model. Short budgets mean there is little room for inefficiencies and plans need not only to be built on the most current data, but need to be reactive and responsive as well. Understanding your customer is paramount and the foundation of any successful plan. What does it cost to acquire a customer and what is the value of that customer? What channel produces not only the most buyers but the best buyers? How much of your customer base is promotion-driven? How much of your budget should you allocate to retention – how much to acquisition? If you can't answer those questions, consider a Lifetime Value Analysis.
So back to holiday results. What did the companies with the biggest losses do or not do? Also an uninteresting answer. They reduced their budget. Across the board. A flat budget – with the continued rise in shipping, printing, cost-per-click and postage costs, is a losing proposition from the onset. It is impossible to expect better results with a reduced investment. That said, budget reductions are often necessary in this business. In these cases it becomes even more crucial to make every marketing dollar count. It is also crucial to understand and manage your expectations. There is absolutely nothing wrong with modest growth and it's an outright success story with flat or decreased spend. Keep your eye on the prize. Short term goals must be at the discretion of long term goals and understanding trade-offs is invaluable.
After a good deal of frustration trying to find concrete answers from nebulous results, we realized we had arrived at a much larger conclusion. The three basics we defined above, though perhaps obvious, are often undervalued and not well attended to for a host of reasons. We will dive further in to those basics, Website, Offering and Marketing Plan – and the challenges and opportunities that surround them in our upcoming newsletters.
After a bit of a hiatus, 5th Food Group is re-committing to a regular newsletter. Should you have topics of interest, we'd love to hear from you.